Make deposits on YOUR schedule with Remote Deposit Capture!
Remote Deposit Capture enables you to make deposits electronically from your place of business. With this service, you will make fewer trips to the Bank.
---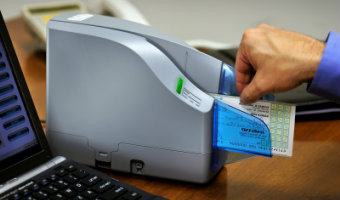 Remote Deposit Capture Benefits:
Secure
Available 24/7/365 so you can deposit on YOUR schedule
Save time by reducing your trips to the Bank
Shorten your collection cycle
Reduce the number of returned items (and fees!)

Simple to use

Add authorized users
View previously scanned deposits for check research
Live Support from Urban FT (third-party provider) from 7:00am to 7:00pm Monday-Friday
Simple fee structure

No installation fees or "hidden" fees
Check scanner, computer program, and technical support included in the monthly fee

Fee is included in your monthly Analysis Charge and may be offset by your deposits
How does RDC work?
Using a check scanner we provide, you scan your checks for deposit in batches. The scanned checks create a file for deposit using a program on your computer. This file is exported to a secure server location provided by Urban FT, a third party company that provides RDC services for the Bank. Deposit files are processed and posted to the account three times per day.
---
Get Started with RDC:
In general, implementing Remote Deposit Capture may take 2-3 weeks; this is largely due to shipping times for the check scanner, and scheduling training with Urban FT (our third-party provider). If you have more questions about Remote Deposit Capture, or would like to begin the implementation process, please speak with our expert, Teri!